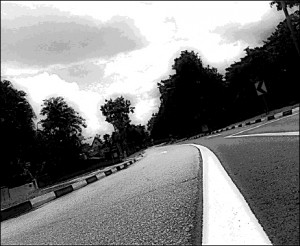 Image © 2011, Timothy Lee. Used with permission.
Joshua 1:8 This book of the law shall not depart out of thy mouth…for then thou shall make thy way prosperous…
God tells Joshua that because Moses is dead, there is no one else that Joshua can turn to, rely on, or fall back on in the task that he is going to be given but Him. He goes on to promise that as He was with Moses, Jehovah is with him now. This is the commitment, promise and assurance to Joshua. Joshua's task was to complete the conquest of Canaan and to fulfill God's promise to Israel and to give them the promised land. To ensure the victory of the conquest, Joshua was to follow the formula of God. Likewise, for us to have a victorious result in our Christian life, we must follow the formula of God. What was God's formula?
God's Word must be continually discussed and deliberated in the life of Joshua:
This book of the law shall not depart out of thy mouth.
It is to be in the daily thinking processes of Joshua. It must be continuously spoken of and shared. The phrase means that the principles of Scripture must be considered and the law must be meditated upon. For us to be fruitful in our lives, the Word of the Lord must be thought through, considered, meditated upon, and spoken of, for as a man thinks in his heart, so is he. We become and are transformed into the image of Christ when we have His words in our hearts and minds daily.
God's Word, once considered, must be carried out.
That thou mayest observe to do
Meditation of God's Word without obedience to it is like an unused piece of equipment – it has the potential for usefulness and benefit but it is unharnessed and therefore, though there is a purpose, and a course, there will be no outcome or results. It is like a hunter who, though having a loaded rifle, is killed because he did not squeeze the trigger. We lose in our Christian life because the Word of God is not considered wholeheartedly, received completely and obeyed diligently. Yet, with attention and care, we will received the promise if we will obey.
God's Word, when continually meditated upon and considered, and diligently obeyed, will bring us to the prosperous and successful path.
When Joshua did as Jehovah commanded him, his way was successful and his task was completed. He was victorious and was added to the hall of faith in Hebrews 11.
Are you yearning for more success in your tasks and more victories in your life? The way to having God's success and victory is to follow His way closely, allowing our heart, our thoughts and actions to be fully controlled by its principles and the Spirit of God. Then, as we run our course in this life, we are assured of a prosperous and victorious course. This is a promise from our loving Father
Evangelist-Pastor Johnny Tan
Ambassador Baptist Church