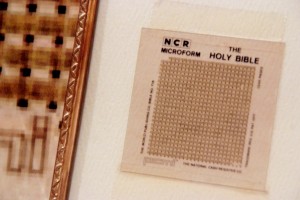 Image © 2011, Timothy Lee – used with permission
Psalms 138:2 for thou hast magnified thy word above all thy name.
God – and His opinions on the affairs and workings of this world – has been largely avoided and rejected by man. This is easily evidenced by man's constant and daily disobedience to His revealed Word. As Bible believers, we are not to ignore this important object of our faith. The Psalmist reveals how God views His word: He has magnified (made excellent, lifted up) His word (His commandments, His speech) above His own name (a position, a mark of authority). It appears that God esteems His Word on a higher plane that His own authority and His own reputation. If His Word is not true, then God Himself is not true. How then should we handle the Word of God? We need to exalt the Word of God too, ensuring that it has a predominant place in our life and living. It is the final authority in all matters of faith, practice and life. What can we practically do to give God's Word its proper place?
We exalt the word of God by meditating in it daily (Joshua 1:8)
Bible reading fills the head with the Word but it can be soon forgotten. Meditation on the word of God keeps the Word in the heart. Many read the Word but few meditate and spend time to study it.
I will meditate in thy precepts, and have respect unto thy ways.
Psalms 119:15
Notice meditation requires time and it requires an honouring of the Word of God.
Are you meditating on the word of God?
We exalt the word of God by making it the foundation for our lives
Therefore whosoever heareth these sayings of mine, and doeth them, I will liken him unto a wise man, which built his house upon a rock:
Matthew 7:24
The foundation of a fragile life, often exposed to the winds of this world, must be rooted in the Word of God. Many build their lives on the foundations of money,
career, children and family. God has said that the wise man will build his life on the Word of God. What are you building your life on?
We exalt the word of God by obeying every word He says
But he answered and said, It is written, Man shall not live by bread alone, but by every word that proceedeth out of the mouth of God.
Matthew 4:4
Obedience is an imperative characteristic for all believers. Above everything else, God wants us to obey Him in word, in heart and in deed. He wants our every thought, word and work to be brought under obedience to Christ. Life is better handled when we live by the Life-giver's instruction manual. Otherwise, we will be unable to live life the proper, God-appointed way. We are to fear God and to keep His commandments. Are we obeying His every word, or are we picking and choosing?
As we begin the series on the Word of God this month, what is your relationship with the Word of God? Is it one of ignorance or are you familiar with His word? Is the word of God exalted in our sight as much as it is in God's? We need to meditate in it, make it the foundation of our lives and we need to obey it. Lord, we will honour your word: give us the strength to do so.
Evangelist – Pastor Johnny Tan
Ambassador Baptist Church