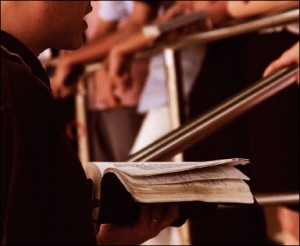 Image © 2011, Timothy Lee. Used with permission
Acts 9:20 …straightway he preached Christ…
Saul wasted no time in declaring the good news that genuine salvation is only found in Christ the Lord. Immediately after His salvation, he immediately preached Christ when Saul saw the truth in the Saviour and when the scales fell off from his eyes. What led Saul to so earnestly declare the gospel of Christ?
He knew it was the will of God for His life
He is a chosen vessel unto me, to bear my name before the Gentiles
Acts 9:15
Saul knew that nothing else would please God more and nothing could give Saul fulfillment more than by living and doing the will of God. Saul knew that this was God's will and immediately gave himself to the preaching of the gospel. Do we, as God's people, know His will for our lives? Do we give ourselves earnestly and totally?
He was earnest in declaring the Gospel of Christ because of his own love for the Lord Jesus
…the Love of Christ constraineth us…
2 Corinthians 5:14
Paul was murderer, a blasphemer, injurious, and a persecutor of the people of God. He was opposed to Lord Jesus and the people who trusted Christ. Yet, when the Lord Jesus met him on the road to Damascus, Saul experienced the mercy of God, when the Lord Jesus did not kill him for his rebellion. He experienced the grace of God when he received the love and forgiveness of God. He experienced the trust of God when God sent and commissioned him to preach the gospel to the Gentiles. He experienced the unconditional love of God and such love compelled him to say, "Woe is me if I preached not the gospel" He loved the Lord Jesus so much that he was willing to die for Christ (Acts 20:21 – 24)
He was earnest in declaring the gospel of Christ because he loved the lost.
I wish that myself were accursed from Christ for my brethren
Romans 9:3
Paul was declaring his heart-felt compassion for his own people: he was willing to be separated from His Saviour for his countrymen's sake. He immediately preached Christ because there were so many people dying and going to hell.
Do we preach Christ in our lives daily? Are we involved in giving out tracts, in witnessing to the lost and winning them to Christ? Paul preached Christ immediately when he got saved. We need to do so, too.
Lord, give me a burden for the lost that I may preach Christ immediately!
Evangelist-Pastor Johnny Tan
Ambassador Baptist Church