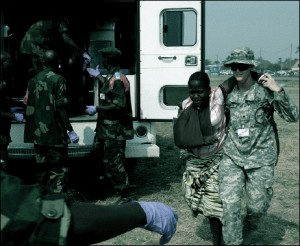 Image Courtesy US Army Africa.
Psalms 54:4 Behold, God is mine helper:
The psalmist, none other than David himself, rejoiced in the confidence of God being His Helper. He was betrayed and found himself in trouble but the Lord, by providence, delivered him from his enemies. How many times has God saved us when we called upon the Lord of our Salvation in our troubles? He is our helper. The Hebrew word for "helper" means to surround, and by implication means that when we are in trouble, the Lord surrounds us to preserve, provide for and protect us from the impending difficulties. How does one God surround us in times of need? The Hebrew word for "God" in this passage is "Elohim," an essential word indicating the plurality of one God. This verse is all the more precious, because not only God is our Helper, the Trinity is our Helper. How does the Trinity assist us in our difficulties and trials, that we might be helped, comforted and protected?
God the Father helps us by this encouragement: that we are His sons.
For ye have not received the spirit of bondage again to fear; but ye have received the Spirit of adoption, whereby we cry, Abba, Father.
Romans 8:15
What a privilege it is to be the sons of God! It comes with advantages as a member of the Heavenly Family. It is a great comfort to know that in times of distress and need, when all else seems empty and gloomy, God is our Father: His love and care over me is a great sustenance in times of my need and He provides all that my need requires, just like an earthly father will do.
God the Son helps us by praying for us.
…It is Christ …who also maketh intercession for us.
Romans 8:34
In the times of our weakness, at times even unknown to us, our Saviour prays for us, as He said He would. When the burdens of life weigh heavy on us, and the trials of life oppress, our Saviour ever prays for us, and His prayers are always heard and answered. What an encouragement that our dear Saviour, whose prayers are always answered, continuously prays for us in our times of need.
God the Holy Spirit helps us by comforting us, leading us, and encouraging us
The Holy Spirit's name is Paraclete: one who walks beside us. He is with us in our pain and pleasure, in our blessing and burden. He takes the will of God for us and works all things according to His purpose in our lives. When we are out of the will of God, He admonishes us to return. When we sin, He convicts us to bring us back. When we are in need of wisdom and guidance, God the Holy Spirit gives us His word and ensures that we are led in the paths of righteousness for His name sake: our job is to listen for Him that we might be guided right.
God is good! He always is and always will be.
Thank you Lord for being my Helper, and help me still to trust You through the events of this life. I know you have a plan for me, and therefore I will press on, that the world may see Your glory in me.
Evangelist-Pastor Johnny Tan
Ambassador Baptist Church