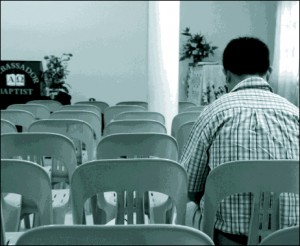 Image © 2009, Timothy Lee. Used with permission.
2 Corinthians 3:18 But we all beholding as in a glass the glory of the Lord, are changed into the same image (of Christ) from glory to glory, even as by the Spirit of the Lord.
The Lord has a glorious plan at the salvation of each of His children: to change them into His likeness and into His image. Sin in the life of each person brings corruption to the perfect nature that man had at the beginning of God's creation. It has alienated each individual from the life of God and His Spirit. The image of God in each of us has been defaced, and corrupted. When we trusted the Lord and become Christians, the Lord's will for us was to restore each individual to the image of God. How does the Lord change us into His image?
By beholding the glass
The word "glass" in the Bible refers to the word of God
For if any be a hearer of the word, and not a doer, he is like unto a man beholding his natural face in a glass:
James 1:23
It is only in the Bible that we behold the glory of the Lord, His power, and majesty, His holiness and righteous life. To be changed into the image of Christ, we need to know what the image is like.
By the Holy Spirit
We are changed even as by the Spirit of the Lord. The Holy Spirit takes the Word that we have diligently read and studied and applies the blueprint of Christ's character into our lives. He takes the thievery and dishonesty in us and changes them into the truth and honesty of God. He takes the anger and impatience that exists in our nature and transforms it into the patience and gentleness of Christ. The Holy Spirit actively works and intervenes in our lives to both mortify (to kill) our sin, cleanse our hearts, and transform us into the likeness of Christ.
By patience
The phrase "glory to glory" indicates a step by step progression. The Lord does not rush to change us, but changes us step by step. He uses the natural course of things that happens in this world and in the personal lives of His children to work in their lives.
Dear believer, are the things of life hard to bear? Do frustration, anxiety, and fear flood our lives as we go through the trials? Note this down: we are in the process of being changed. We are being transformed gradually into His character. God is at work! How need we then to respond? We need to be patient with one another when we see the failings, shortcomings and faults of another brother. We are not to condone sin, but we are to help, pray and encourage one another because God is still at work to change us into His image. Be patient therefore, and press on!
Evangelist-Pastor Johnny Tan
Ambassador Baptist Church